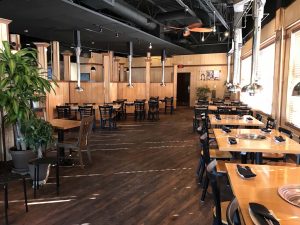 Opened in July 2009, Cafe Korea features sophisticated Korean cuisine which can be enjoyed, not only by Koreans but also by Non-Koreans. Our executive chef – Julie Bang (certified cook in Korea), is a native of South Korea with 30 years of cooking experience. Every food reflects her pride in Korean culture and heritage.
Our unique menu consists of "Seoul Food" well known for its elegant and fresh ingredients with signature sauces.
We are committed to providing our customers with the most delicious Korean cuisine all made with the finest ingredients. People of all ages can truly enjoy Cafe Korea dining experience at exceptionally reasonable prices.
No reservations are required and there are always plenty of free parking spaces available at the restaurant. It is the perfect restaurant if you are looking to try something different!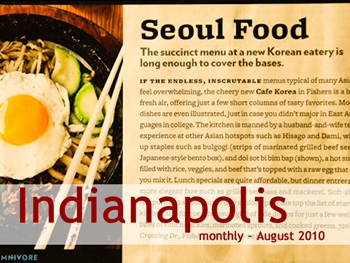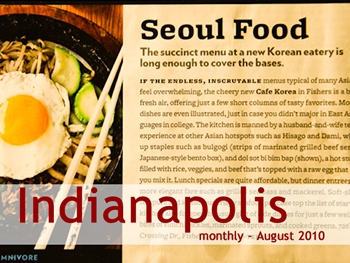 News
An article written by Terry Kirts in Indianapolis monthly, August 2010 issue.
" IF THE ENDLESS, INSCRUTABLE menus typical of many Asian stops feel overwhelming, the cheery new Cafe Korea in Fishers is a breath of fresh air, offering just a few short columns of tasty favorites.
Most of the dishes are even illustrated, just in case you didn't major in East Asian languages in college. The kitchen in manned by a husband-and-wife team with experience at other Asian hotspots such as Hisago and Dami, who server up staples such as bulgogi (strips of marinated grilled beef served in a Japanese-style bento box), and dol sot bi bim bap (shown), a hot stone bowl filled with rice, veggies, and beef that's topped with a raw egg that cooks as you mix it. Lunch specials are quite affordable, but dinner entrees include more elegant fare such as grilled sea bass and mackerel.
Soft-shell crab tempura and a delicious crispy seafood pancake top the list of starters. The kitchen also forgoes the usual glut of slide dishes for just a few well-chosen bites of kimchi pickles, marinated sprouts, and cooked greens. "
An article written by Traci Cumbay, Star correspondent in the Indianapolis Star on Oct 28, 2010.
"
Get a splendid taste of Korea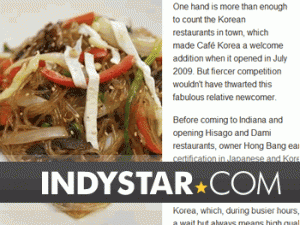 One hand is more than enough to count the Korean restaurants in town, which made Café Korea a welcome addition when it opened in July 2009. But fiercer competition wouldn't have thwarted this fabulous relative newcomer.
Before coming to Indiana and opening Hisago and Dami restaurants, owner Hong Bang earned certification in Japanese and Korean cooking in Korea. She's the brains and experience behind the artistry coming out of the kitchen. In fact, she's the only person cooking at Café Korea, which, during busier hours, might mean a wait but always means high quality.
The small restaurant (the one with the Seoul Food sign in the window) has the architecture of a former sub shop. Sandwich bar has become wine bar, and the pale yellow and burgundy color scheme suppresses the fast-food feel. A karaoke set-up near the entrance doesn't surge to life until about 9 p.m."